Currently browsing the "
Adam Brody

" tag.
I finally have a solid front-runner for my 'best of' list for film and lead actress for 2020. It's Promising Young Woman starring Carey Mulligan (Wildlife, Mudbound, An Education). The movie defies the boundaries of any particular genre. It's got dark comedy, drama, crime, vengeance, timely relevance, a great soundtrack, and a twist. Oh, what a twist.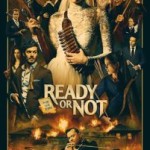 I wasn't exactly ready for Ready or Not. Horror movies are not my thing. But with IT Chapter Two waiting in the wings, I thought it best to ease into the horror with a bit of camp. And that's what Ready or Not is: a quirky, campy horror flick that is bloody entertaining, in an off-the-chain Grimm Fairytales sort of way. It's about a new bride who gets roped into playing a deadly game of Hide and Seek with her rich and eccentric new in-laws immediately following her wedding on the grounds of the family's creepy mansion. Aint love grand?