Currently browsing the "
Adèle Exarchopoulos

" tag.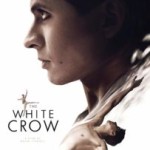 "White crow," as the film informs us early on, is a term used to describe a person who is unusual, extraordinary, not like others, an outsider.
A Rudolph Nureyev.
For those unfamiliar with political and dance history, Nureyev was a promising young talent in Leningrad's famed Kirov ballet company when he shocked the Soviets and the world by defecting to the West at the conclusion of a Parisian tour in 1961. The White Crow is Nureyev's story, as told through the lens of actor/director Ralph Fiennes who pulls double-duty as Nureyev's Russian dance instructor Alexander Pushkin. Fiennes chose a dancer over an actor to portray Nureyev – a leap of faith that ends up sacrificing story in the service of art.
La Vie d'Adèle—Chapitres 1 et 2 aka Blue is the Warmest Colour was the hit of this year's Cannes Film Festival winning top honors and scoring its young stars Léa Seydoux and Adèle Exarchopoulos the first ever shared acting Palme d'Or. It also stirred up some controversy for its very graphic depiction of lesbian sex and the intensity of the film shoot for its two young actresses. But beyond the stories about the film, it is a beautiful movie exploring first love and longing, that watches a young woman come into her own.