Currently browsing the "
Ai Weiwei

" tag.
The world is awash in people who cannot stay in their homes because of war or famine or climate or any number of other tragedies that might make remaining impossible. Who are they and what happens to them once they strike out to find a safe place? That's what this sprawling documentary from Chinese activist artist Ai Weiwei attempts to tell us. It's not a pretty picture (though there is some gorgeous cinematography), and there is no solution given to the heartbreaking international crisis. But if anything the film is a call for the world to wake up and deal with a problem that will not go away on its own.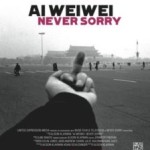 Without doubt Ai Weiwei is the most famous Chinese artist on the planet. His art is thought provoking, but his life, even more so. The documentary Ai Weiwei: Never Sorry gives us a closeup and personal view of the man, his art and the courage he has shown in speaking truth to power, a very dangerous thing to do in China. Filmmaker Alison Klayman was fortunate to be allowed access to Ai for three years, following him as he prepared for shows around the world, and as he stood up for the young victims of the 2008 Sichuan earthquake.