Currently browsing the "
Akil 'Smurf' Sanford

" tag.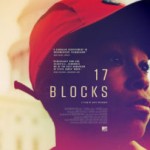 I saw this one at AFI DOCS in 2019, back when we could still go to festivals. And it's just now coming into theaters virtually. 17 Blocks is a sad and personal gun violence tale. Shot over two decades by a family in Washington, DC, you see kids growing up in a single parent house. Mom is a junkie, though she does try to keep it together. Her three kids do their best. But there is one kid who is the star, Emmanuel – good grades, nice girlfriend, plans for the future. He lives with his older brother Smurf who he idolizes and sister Denice. And then there is a tragic shooting.