Currently browsing the "
Aldis Hodge

" tag.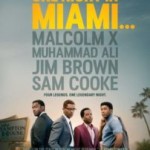 Academy Award winning actress Regina King's extraordinary directorial debut is an adaptation of a play that tells the story of one evening in 1964 when four African-American icons get together in a small motel room in Miami. Those men are Malcolm X (Kingsley Ben-Adir, "Peaky Blinders", "High Fidelity), Cassius Clay, soon to become Mohammed Ali (Eli Goree, Race, "Ballers"), Jim Brown (Aldis Hodge, Hidden Figures, The Invisible Man), and Sam Cooke (Leslie Odom Jr., Hamilton's Aaron Burr). They come together to celebrate their friend Clay's upset victory over world heavyweight boxing champ Sonny Liston. But amidst the revelry their conversations turn to the power and responsibility of being a celebrity in the Black liberation movement's early years. What's great about the script is that it isn't dogmatic or preachy. It's the kind of conversation old friends might have, peppered with jokes and digs and a heated disagreement or two along the way.
What men should want is not to be dragged to this movie for Valentine's Day. And what men – and women – deserve is a stronger spin on a plot device that worked quite well in Nancy Meyers' 2000 romantic comedy What Women Want, starring Mel Gibson and Helen Hunt. Gibson (before he went all weird on us) played a chauvinistic executive who learned something about himself – and his treatment of women – after a mishap gave him the ability to hear women's inner thoughts. This time around, the genders are reversed. Taraji P. Henson plays Ali Davis, a successful sports agent in Atlanta who gains the ability to hear men's inner thoughts. She hopes to use her newfound power (a blessing and a curse) to score a high-profile client, and land the promotion she is entitled to in the boy's club that is her workplace.