Currently browsing the "
Alex Garland

" tag.
Annihilation is interesting and weird, slow and methodical, and dare I say, bordering on boring. Hyper-sensitive fans of the film may ream me for not fully grasping or appreciating the deeper meaning, the metaphors, the beauty in the bizarre, yadda yadda yadda. But that's okay. I didn't love Arrival either. Annihilation is a cerebral sci-fi horror flick from Alex Garland (Ex Machina) based on the "Southern Reach Trilogy" by Jeff VanderMeer. If you've read the books, you're probably ahead of the game and more likely than most to love this movie. Here's the gist: Natalie Portman plays Lena, an Army veteran and cellular biologist whose husband Kane (Oscar Isaac) was believed killed in action during a secret military mission. He reappears a year later, extremely ill, with no memory of what happened. Government agents nab the newly-reunited couple and take them to "Area X", an unspecified locale that borders a mysterious "Shimmer" that's been expanding along the U.S. coastline.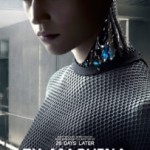 In his directorial debut Alex Garland, the writer of 28 Days Later and Sunshine, has served up an intriguing minimalist sci-fi thriller that is more about what isn't onscreen than what is. It's a very simple story about an evil genius's quest to design a sentient robot and the pawns he uses in the perfection of his plan. The cast of three (Alicia Vikander, Domhnall Gleeson, and Oscar Isaac) spends most of the film sequestered away in a remote house/research facility and the audience spends most of its time wondering if things can possibly end well, as layer upon layer of artifice is stripped away.