Currently browsing the "
Alice Englert

" tag.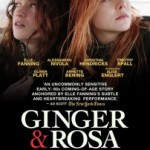 It may be called Ginger & Rosa, but it is Elle Fannings's movie. She plays Ginger, a 16-year-old in London in 1962 whose entire world is in a precarious position for a whole slew of reasons. Her family is coming apart. She is more and more concerned about the threat of nuclear war. And she is at that point in adolescence where the weight of everything just seems too much to bear. She has always been able to talk to her best friend Rosa (Alice Englert) about anything, but now that she is more interested in protesting for disarmament, all Rosa can think about is true love, and the two who have been best friends since birth begin to drift apart.
Beautiful Creatures is based on a popular novel for the 'YA' (young adult) crowd. And while I pride myself on being hip to such trends (Twilight, The Hunger Games, Harry Potter, etc.), I'd never actually heard of it. So I went into the movie with zero expectations. And in the end – I thought it was okay. Nothing extraordinary. But it didn't suck. I actually found it more interesting and romantically engaging than that other popular-novel-turned-movie released for Valentine's Day, Safe Haven. Both movies feature a supernatural element, but Beautiful Creatures takes it to the max. If you hear pop culture rumblings about "being claimed" – Beautiful Creatures is to blame.