Currently browsing the "
Andrea Berloff

" tag.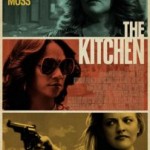 The Kitchen. Just stay out of it.
As much as I'd like to support a film helmed by a woman (Andrea Berloff in her directorial debut) and led by a strong ensemble cast featuring a trio of talented women (Melissa McCarthy, Tiffany Haddish, Elisabeth Moss)… I can't find any reason to recommend The Kitchen.