Currently browsing the "
Aneurin Barnard

" tag.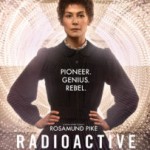 Who coined the term "radioactivity"? Who was the first woman to win a Nobel Prize? Who was the first person to win two Nobel Prizes? What husband and wife duo shared a Nobel Prize in chemistry? Who are the first mother and daughter Nobel Laureates? The answers have one common denominator: Marie Curie.
This film is trippin'! It may not garner any Oscar nominations, but it's definitely the most fun option of the week for anyone in the mood for a comedic escape. Girls Trip delivers what Rough Night failed to just a few weeks ago… and that's a raunchy yet relatable female ensemble comedy in the spirit of the highly-successful Bridesmaids.