Currently browsing the "
Anne-Carolyne Binette

" tag.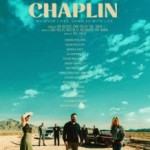 This dark comedy is based on a true incident. In 1978, a couple of thieves dug up Charlie Chaplin's body in Switzerland and unsuccessfully tried to extort ransom from his family. In this modern version, the story is transported to Las Vegas a distinctly a more gritty milieu. The grave robbers this time are a couple of British brothers, deeply in debt to the mob who need some quick cash. Cal (Simon Phillips) and Terry (Doug Phillips, not related) are small time conmen, but when Terry loses big on a stupid bet, they're given one week to come up with the dough or it's curtains! Cal is the brains of the outfit, but he's at a loss, so when Terry tosses out the Chaplin idea, he figures they have nothing to lose.