Currently browsing the "
Apple TV+

" tag.
On the Rocks is a mellow, totally forgettable yet easy enough to watch father-daughter relationship dramedy written and directed by Sofia Coppola. It stars Bill Murray as Felix, a charming, larger-than-life philanderer who helps his daughter Laura (Rashida Jones) investigate whether her husband Dean (Marlon Wayans) is cheating on her. After all, who better than Felix to know the tricks of the infidelity trade?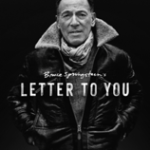 Letter to You is a must-see documentary for fans of the Boss, and a should-see documentary for everyone else! The man – and the music- are simply mesmerizing. Perhaps I'm a tad biased, having spent a small fortune pre-pandemic to see Springsteen on Broadway (twice). But I can honestly say I enjoyed this documentary more than the filmed version of the stage show and more than last year's cinematic filmed version of his melancholy album Western Stars.