Currently browsing the "
Barry Jenkins

" tag.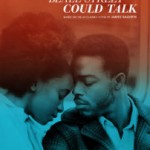 If Beale Street Could Talk is a beautiful series of vignettes that tell the story of a young black couple in the early 70s in New York. Directed by Barry Jenkins (Moonlight), this adaptation of James Baldwin's novel is a racial justice story wrapped in a love story that is uplifting and heartbreaking at the same time. At the center are Tish (KiKi Layne) and Fonny (Stephan James – Race, Selma), young lovers just starting their lives together when their world is upended with a false rape allegation. And it's through a family's love that things don't entirely fall apart.
Moonlight doesn't have any major star-power going for it, but the film could easily become one of those smaller, underdog indies that breaks through the field this Awards season– if enough people see it and word of mouth spreads. It's a poignant drama adapted from a play called "In Moonlight Black Boys Look Blue" by Tarell Alvin McCraney. The film chronicles a young black boy's tumultuous and painful journey of self-discovery and sexual identity as he grows up in a rough Miami neighborhood. Three different actors portray the lead character Chiron (Alex Hibbert, Ashton Sanders, Trevante Rhodes), and the transitions are impressively seamless.