Currently browsing the "
based on true events

" tag.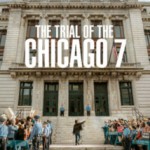 Seems like a ton of movies coming out in the midst of this pandemic are trying very hard to tell us something critically important about our past, present… and future. Count among them: The Trial of the Chicago 7. The film occasionally teeters on a high horse, as each member of the A-list cast gets a turn to shine in the Aaron Sorkin spotlight of zippy dialogue imbued with a mix of cynical and serious political and philosophical debate. But overall, it's an interesting and important story to revisit, as it is based on true events eerily similar to current ones. And Sorkin does have a knack for transforming a courtroom drama into a crowd-pleasing spectacle.