Currently browsing the "
Beasts of the Southern Wild

" tag.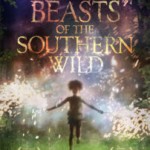 Beasts of the Southern Wild is probably not a movie for Mainstream Chick. It isn't a straightforward narrative. It is more a modern fable, which some have compared with The Tree of Life for its blend of fantasy and realism. It is a simple little story though, and extremely well told. At its center is a little girl named Hushpuppy, played by 6-year-old Quvenzhané Wallis. She isn't the usual cutesy kid. She is self-reliant and defiant, has a rich inner life and is filled with wonder about everything around her. She and her Dad live in the wild Louisiana bayou on a sliver of land of they call The Bathtub. They are poor as can be, existing in the middle of squalor, but the film doesn't care about their poverty. It is all about their love of the life they have that is slipping from their grasp. It is about their hold on their normal.