Currently browsing the "
Bill Paxton

" tag.
Slumdog Millionaire meets Jerry Maguire? That's a major-league oversimplification, but Million Dollar Arm works for a lot of the same reasons that those flicks did: good writing, good story, great casting, a lot of humor, and even more heart. Plus, it's based on real events, which makes it even more endearing. This flick goes in the 'win' column for chicks and dudes alike.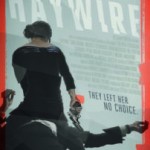 Mixed martial arts (MMA) superstar Gina Carano plays the lead and does all her own stunts in Steven Soderbergh's latest action flick Haywire, which comes off feeling kind of Bourne-lite. In it she is surrounded by a pretty yummy collection of today's high powered male stars: Antonio Banderas, Michael Fassbender, Ewan McGregor, Channing Tatum, even Michael Douglas. And that is the problem with the film. Carano is not an actress, and she really cannot hold her own with the big boys.