Currently browsing the "
biographical drama

" tag.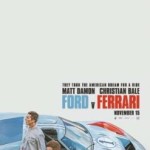 Ford v Ferrari has all the key ingredients for an awards-season crowd-pleaser: two great actors (Matt Damon and Christian Bale) sharing top billing, a true story that many folks are probably not aware of, and an adrenaline rush that carries the film to the finish line. It's a classic sports underdog story about two racing legends, Carroll Shelby and Ken Miles, who helped the Ford Motor Company build and race a car that could hold its own against Italian racing icon Enzo Ferrari's team at the 1966 24 Hours of Le Mans Race in France. More importantly, it's about the friendship between the two men, so you don't have to be a motorsports fan to get on board.
Remember back in 2003, when US Secretary of State Colin Powell went before the United Nations to make the case for war against Iraq, basing his appeal on what later turned out to be false intelligence linking Saddam Hussein to Al-Qaeda and Weapons of Mass Destruction? Of course you do. Need a refresher, or a reason to get your blood boiling all over again? Official Secrets should do the trick.