Currently browsing the "
Bob Ladouceur

" tag.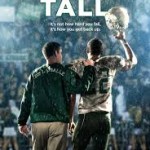 We sent 'Guest High School Chick' Gabby Rhoades to a screening of When the Game Stands Tall, figuring she was better qualified to speak to its potential appeal to High Schoolers in particular – and the broader audience in general. The screening itself was flawed by technical difficulties (sorry 'bout that!), but we appreciate her sticking it out and offering up this review:
When The Game Stands Tall is a great and inspiring end-of-summer movie to get the public ready for football in the fall. Inspired by a true story, the De La Salle High School Football team, the Spartans, hold the nation's highest winning streak of high school football games in all of history. This movie is not just another cliché plot where the football coach tries to change the lives of boys learning to become men and them trying to find clarity on the field. It's a story of one of the nation's most talented football teams losing for the first time in many aspects of life, and learning to pick themselves back up as a team.