Currently browsing the "
Bob Marley

" tag.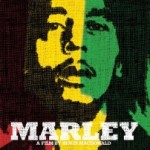 Of course a documentary about Bob Marley would be released on 4/20 and if you don't get why, this might not be the movie for you. That's a joke actually — if you have any interest in Bob Marley and his music, the movie "Marley" is definitely worth seeing. From Last King of Scotland director Kevin MacDonald and backed by the Marley family it's a an engrossing and extensive look at the singer's too short life.
Using archival footage and a ton of interviews, the film paints a portrait that goes far beyond the pot-smoking reggae musician most people see him as.