Currently browsing the "
buddy movie

" tag.
My biggest hang-up with this Bridesmaids-meets-Hangover-esque comedy is that it's hard not to listen to its star, Josh Gad, and not picture the animated snowman Olaf from Frozen. The 'characters' may be different – but their voices are exactly the same. So it takes some getting used to! Do you wanna build a snowman…?
Is that all that's wrong with The Wedding Ringer? No. But there's plenty that's right… including a story that is sweet and relatable at its core, and a cast of characters that generate plenty of laugh-out-loud moments. It's basically a 'buddy movie chick flick' that offers up an entertaining escape from the somber awards-season fare.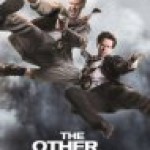 Hmmmm. This movie isn't bad. But it sure is weird. My inclination is to say "skip it", but a lot of people laughed, a lot, during the course of this movie. They also groaned a lot, "ewwwwww"ed a lot, and said "Say Whaaaat?" a lot. So who am I to judge?