Currently browsing the "
Carmen Ejogo

" tag.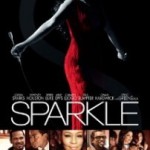 Sparkle falls far short of the total package that is Dreamgirls. But the music is still infectious, fun, and occasionally even powerful enough to make you forgive and forget the gaping holes in story and character development. In other words, keep your expectations in check. And if you're on the fence, wait for the rental.
Former American Idol winner Jordin Sparks plays the title character, Sparkle, an aspiring singer-songwriter who has the potential to be a star, if she can overcome a whole lot of family drama.