Currently browsing the "
Catherine Frot

" tag.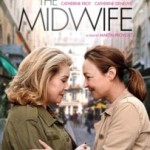 France's two greatest female stars unite in this bittersweet drama about unfinished relationships. Catherine Deneuve is hard-living Béatrice, who's been living out of a suitcase for decades making a living as a gambler. She reenters Claire's (Catherine Frot, Marguerite) life just as both their lives are about to change drastically. Claire is a midwife who's clinic is about to shut down and it's the one place she's really alive. Béatrice disappeared from her life without explanation many years early, but suddenly wants to be a part of it again? Claire isn't so sure. Though there are other storylines in the movie, the center is these two starkly different women growing to rely upon one another.
Every few years two movies come out about the same subject at the same time, and one is lauded, while the other is overlooked. I hope that doesn't happen with Marguerite, a truly wonderful French film "inspired by" the story of tone-deaf but passionate opera diva wannabe Florence Foster Jenkins. An American film starring Meryl Streep will be covering her story again in a few months time. But it is hard to believe that Meryl can top Catherine Frot's performance, though if anyone can… And what a character she is! In the French version, she is known as Baroness Marguerite Dumont and she is heart-breakingly delightful!