Currently browsing the "
Charles Dance

" tag.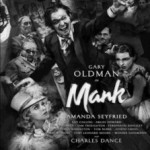 Lovers of Old Hollywood rejoice. David Fincher (Fight Club, The Social Network) has served up a beautiful black-and-white ode to Tinsel Town's power players and their behind the scenes machinations. Set in the 1930's and 40s, Mank is the story of the writing of Orson Welles' debut masterwork Citizen Kane by the alcoholic, bedridden hack Herman J. Mankiewicz (Gary Oldman, Darkest Hour, Tinker Tailor Soldier Spy). His friendship with William Randolph Hearst (Charles Dance, "The Crown", "Game of Thrones") and his partner Marion Davies (Amanda Seyfried, First Reformed, Mamma Mia) was the basis for the film and their relationship is the backbone of Fincher's. And as Mankiewicz writes from his bed out in the desert, he reflects back on the past decade of his life when he was a frequent guest at Hearst mansion, tolerated for years despite his loutish behavior because he was so amusing.
Another Dracula movie you ask? Haven't we had enough vampire movies yet? Well, maybe not. Dracula Untold gives the traditionally evil bloodsucker his back story and makes him a more sympathetic creature than any of the other iterations. Yes, he's still in Transylvania and he's been known to impale a lot of folks, but it's not that he's inherently blood thirsty. He has a really good reason for acting the way he does and Dracula Untold gives you a ringside seat to this good guy gone bad story. This Dracula is no Edward or Jacob or even Tom Cruise Lestat. He's a Game of Thrones hunk of a warrior with a big heart, but he's given an impossible choice that changes his fate forever.