Currently browsing the "
Charlotte Le Bon

" tag.
To enjoy this film you must a) get past Joseph Gordon-Levitt's French accent and b) have no fear of heights. The Walk is a pretty straight forward telling of what was undoubtedly the most audacious aerialist crime ever. In 1974, just as the World Trade Center twin towers were nearing completion, French high wire performer Philippe Petit decided to sneak into the buildings, string a wire between them, and perform his act 1,350 feet above Lower Manhattan. He enlisted a motley crew of French and American conspirators for what he referred to as his "coup" and somehow got away with it. But sadly, as exciting as the final walk is (thank you CGI artists!), the build up to it isn't really all that interesting, especially if you saw the Oscar winning documentary Man on Wire, which told the story with real tension.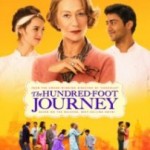 The Hundred-Foot Journey has all the ingredients for an arty-mainstream crossover dish, ala The Best Exotic Marigold Hotel. It doesn't hurt that the film has the producer power of Steven Spielberg and Oprah Winfrey behind it, and the star power of Helen Mirren. But it's also got a solid cast and a relatable story peppered with drama, comedy and romantic chemistry. It is, quite simply, a feel-good movie with intergenerational appeal.