Currently browsing the "
Chelsea Handler

" tag.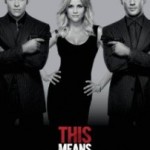 This Means War could ignite a battle among critics – and debates among friends- because it's not a great movie by any stretch, but it doesn't suck either. It's fine February fluff that's part 'buddy movie' and part 'chick flick'… part action-adventure-spy-drama and part romantic comedy. If the combination doesn't appeal, then skip it. But if you're looking for a good date movie or compromise among friends, then consider putting this one on the table.
Chris Pine (Star Trek, Unstoppable) and Tom Hardy (Inception,Warrior) play CIA agents whose brotherly bond is tested when they fall for the same girl, played by chick-flick veteran Reese Witherspoon (Water for Elephants, Legally Blonde, Sweet Home Alabama). She, in turn, falls for both of them – unaware that they know each other and are using the tools of their trade to surveil and sabotage her romantic encounters.