Currently browsing the "
Colleen Hartnett

" tag.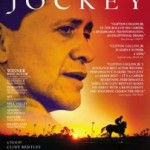 Jockey is a sports drama that is purposely light on action and heavy on character study. It's more trot than sprint. More arty than mainstream. Get the picture?
The film follows aging jockey Jackson Silva (Clifton Collins Jr.) as he chases one last hurrah on a potential championship horse acquired by his longtime trainer– and maybe more— Ruth (Molly Parker). Decades of rough riding have taken a toll on Jackson's body, and it's probably time to hang up the spurs. But horse racing is in his blood; it's his entire world. At least, until a young rookie rider named Gabriel (Moises Arias) shows up, claiming to be his son. Jackson takes Gabriel under his wing and teaches him some tricks of the trade. It's a bittersweet bond, with implications both personal and professional.