Currently browsing the "
comic book

" tag.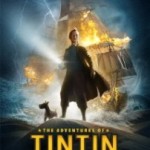 Isn't Tintin supposed to be a dog? C'mon, I can't be the only one who thought The Adventures of Tintin might be some new animated twist on the tales of a certain German Shepherd named Rin. My bad. The movie is actually based on a popular European series of comics created in 1929 by a Belgian artist known as Herge'. Tintin is not a german shepherd. He's actually a curious young reporter-detective-adventurer who, along with his dog Snowy (a fox terrier), gets caught up in the wild and wacky world of criminals, villains, artifacts and treasure. He's part "Brenda Starr", part "Indiana Jones".
From a purely visual standpoint, The Adventures of Tintin is rather stunning with its use of motion-capture technology. But the story itself falls a bit flat, even at the direction of the almighty Steven Spielberg.