Currently browsing the "
comic

" tag.
The new "Superman" movie is getting some mixed reviews, but here's the real deal on the Man of Steel: It's definitely worth seeing – just keep your expectations in check and don't over-think it. It's not a perfect movie. It's probably not the best action-hero movie you'll see this year. But it is an interesting and entertaining re-imagining of the Superman mythology. He's still the guy who can leap tall buildings in a single bound (once he realizes he can fly) and fight the good fight for truth, justice and the American/Earthly way. He just goes at it from a slightly different angle.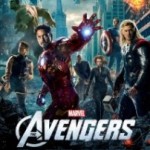 I'm no comic book aficionado (far from it), but I really liked The Avengers. And that's mostly because I really like watching Robert Downey Jr. as Tony Stark, a.k.a. Iron Man. You've got to love a superhero who's cynical, sarcastic, witty and walks around in tight jeans and a "Black Sabbath" tee-shirt when he's not suited up for battle.
The movie also features a host of other reluctant heroes from the Marvel Comic Universe, including the Shakespearean thunder god Thor (Chris Hemsworth), the recently defrosted World War Two soldier-extraordinaire, Captain America (Chris Evans), the mild-mannered doctor-turned-green-monster-when-he's-angry The Hulk (Mark Ruffalo), the brooding guy who's good with arrows, Hawkeye (Jeremy Renner), and the psychologically damaged superspy chick in a form-fitting bodysuit, Black Widow (Scarlett Johansson).