Currently browsing the "
Corey Hawkins

" tag.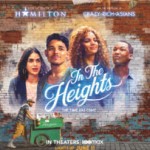 Welcome back to the movies! In The Heights is the first movie I've seen in an actual movie theater in over 14 months. And while it is premiering simultaneously in theaters and streaming on HBO Max, In The Heights is the type of movie that deserves to be seen on the big screen first; and then perhaps, in repeat viewings at home. Especially if you're a fan of movie and broadway musicals. The film adaptation of Lin-Manuel Miranda's 2008 Tony-winning musical runs a tad long, but hits all the key notes in terms of story, acting, singing, message and homage.
I really liked this film, even though I'm not normally a fan of hip hop, because it has a great story and great characters and, I have to admit, some great music. It's a bio-drama about a group of friends in one of Los Angeles's rougher neighborhoods who got together in the mid-80s and used hip hop to describe their lives and spread their truth and were blown away by the incredible reception to their message. They became huge stars and changed the music industry. And all these years later, the racism and discrimination they were reacting to in their music feels just as relevant.