Currently browsing the "
Cynthia Addai-Robinson

" tag.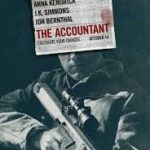 There's a whole lot going on in The Accountant, but somehow it all adds up to a surprisingly entertaining action movie with an interesting story, some well-timed comic relief, and a very strong cast. So don't let the odd premise — of a brilliant but socially-awkward numbers-crunching assassin with Asperger's — scare you away. It's one of my favorite movies of the year for sheer mainstream movie appeal, easily besting last week's highly-anticipated drama The Girl on the Train.