Currently browsing the "
Dale Dickey

" tag.
This taut little thriller is the perfect flick to watch from the comfort of your couch. In it a young woman checks herself out of rehab to rush to her dying mother's bedside, only to get stranded with a group of strangers at a visitors' center in the middle of a snow storm. But when she steps outside hoping to get a signal on her phone so she can contact her sister, she discovers a little girl trapped in a van and has to try and figure out which of her four fellow travelers is the kidnapper and how to rescue her. It's a brisk story with enough twists and turns to keep you engaged from beginning to end.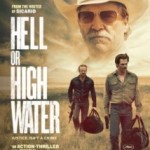 Hell or High Water didn't get the attention it deserved when it was out. But now it's getting some notice by the awards people, so I thought I'd give my take. (Mainstream Chick's take is at the bottom of this post. We both liked it a lot!) It has a great cast – Chris Pine, Jeff Bridges, Gil Birmingham, and Ben Foster. It's a fairly simple story, very well told. Two teams are playing a cat and mouse game with each other. Brothers Tony and Tanner (Pine and Foster) are small time bank robbers. Texas Ranger Marcus Hamilton (Bridges) and his partner Alberto (Birmingham) are on their tail as they knock over branches of the Texas Midlands Bank. Tanner has a record, but Tony is doing it all for his young sons. And Hamilton is about to retire, so he wants that last good case. It's a very human story that's humorous, sad, and action packed.