Currently browsing the "
Daniel Auteuil

" tag.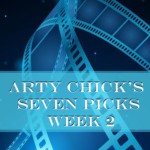 Week two of listing favorite films that may not be on your radar because they're not new. A few of these were made before I was born, and they're still resonant. This week's seven run the gamut of genres and styles.
I give you a Chinese Kung-Fu comedy, a French rom-com, a Frank Capra classic, a Hong Kong gangster vs cop drama, a brilliant gothic horror tale, a women's lib girl power comedy, and the funniest rom-com ever made.
There's something for everyone here.
If you're looking for a tasty little French romantic comedy, Apres Vous is just the ticket. Nothing deep here, nor laugh out loud funny, but the French have a way with the romances and I have a thing for Daniel Auteuil. Here he stars as a restaurant manager (Antoine) who saves a stranger in the park (Louis) from hanging himself and then tries to repair his life. He finagles him a job as sommelier at his restaurant but things get a bit more complicated when he decides to get Louis and his ex-girlfriend Blanche back together. Of course, he falls for her himself losing his own girlfriend along the way. He can't tell the suicidal Louis, but cannot help himself and naturally Louis finds out.