Currently browsing the "
Daniel KaluuyaAvengers

" tag.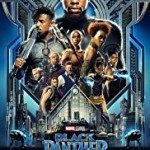 Yes, it is very good. It's even better if you happen to like the genre – at least to some degree. Black Panther works as both a standalone action drama sci-fi superhero movie, and as a worthy addition to the Marvel Cinematic Universe. I'm a big fan of Marvel Studios' Avengers franchise (Captain America, Thor, Iron Man, etc.) so I'm looking forward to seeing a lot more of T'Challa/Black Panther in the near and distant future. He's one cool dude surrounded and protected by a bunch of kickass cool women.