Currently browsing the "
Dementia

" tag.
No, this isn't another space movie, though the title may give you that impression. It's a placid roadtrip movie, featuring a middle-aged gay couple riding through England's Lake District in a camper van, pondering life's joys and sorrows in the shadow of a terminal dementia diagnosis. If it were anyone other than Stanley Tucci (Big Night, The Hunger Games) and Colin Firth (A Single Man, The King's Speech) in the lead roles, it might not resonate all that much. But the two actors – and longtime friends – share an easy chemistry that is quietly compelling to watch, under the direction of Harry MacQueen.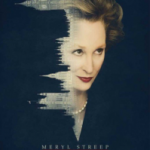 Meryl. I think she deserves to be known by one name by now. What an actress! What an amazing variety of roles she has played in the past few years: It's Complicated, Julie & Julia, Doubt, The Devil Wears Prada, Mamma Mia! and so many others. Now she brings us another of her memorable performances as Margaret Thatcher in The Iron Lady. Unfortunately, it is not all that good a movie. Yes, Meryl is her usual great self, but Maggie just is not likable or layered. And the script does not help.