Currently browsing the "
Denis Leary

" tag.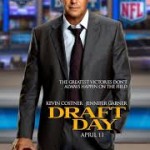 Draft Day is perfectly likable, but it wouldn't really make the cut for anyone's fantasy team of sports movies. It's superficial entertainment geared toward the ESPN Sports Center crowd, with a bit of chick-flick appeal — sort of a rookie version of Jerry McGwire meets Moneyball. Kevin Costner plays Sonny Weaver, the general manager of football's Cleveland Browns who is tasked with 'making a splash' on Draft Day if he expects to keep his job. It's a dramatic day that can have a life-changing impact on the lives of front-office personnel, coaches, players and NFL hopefuls across the country. Weaver has the opportunity to rebuild his team when he trades for the number-one draft pick. But his decisions come with consequences, personal and professional.
Yes, the story is somewhat different. But it's also kinda the same. And therein lies the rub. There's nothing wrong with the Spider-Man reboot – it just doesn't need to be. The incredibly talented cast is wasted on a retread. I mean, c'mon Hollywood, can't you find just one solid, original script worth taking a multi-million dollar gamble on?
First, for what's different: The Amazing Spider-Man focuses on the true origins of the Spidey character, including Peter Parker's quest to understand why his parents left him in the care of good ol' Uncle Ben (Martin Sheen) and Aunt May (Sally Field) when he was just a boy. When Peter (Andrew Garfield) crosses paths with his father's former partner, Dr. Curt Connors (Rhys Ifans), you know that can't end well. Especially when Dr. Connors starts putzing around with a serum that turns him into a giant killer lizard.