Currently browsing the "
Despicable Me

" tag.
Within the context of the Despicable Me movies, minions are a breath of fresh air – entertaining, silly, musical misfits. But give them a movie of their own, and the yellow thingamajigs obsessed with 'bananas' simply lose much of their appeal. Kids will still be moderately entertained by the gibberish-speaking blobs, but older kids and adults may find the Minions movie a bit of a bore.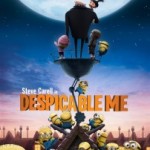 Despicable Me was delightful to me… and to the child and other adult I had in tow when I went to see it. We all experienced laugh out loud moments throughout the movie, including a few just for the adults, like a sly reference to Lehman Brothers. This movie is, in a word, hilarious.