Currently browsing the "
environment

" tag.
I guess there's a reason we don't really hear about great animated movies from Lionsgate and Splash Entertainment. If Norm of the North is any indication, they don't make them! This movie was simply boring, with some of the worst character development and weakest plot points I've ever seen in a movie about preserving the environment. Little kids who don't know better may still enjoy watching Norm for the cute animals, occasional pop songs, and cartoonish style. But the adults – except for a few random lines that are tossed their way (i.e. over the kids' heads) – will be yearning for a thousandth replay of Frozen or Inside Out.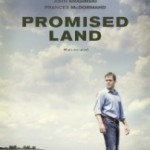 Promised Land is a well-acted and well-meaning movie that unfortunately lacks the one key ingredient that every good drama desperately needs… drama. It's almost too balanced for its own good, raising issues that could easily provoke and placate supporters and opponents of 'fracking', the controversial process of using water, sand and chemicals to fracture underground rock formations to obtain gas, oil, etc. That may be the intent of co-writers and co-stars Matt Damon and John Krasinsky. But the result is a movie that plods along at a mellow pace, without any major spikes of heart, romance, humor, horror, or grit.