Currently browsing the "
Eugenio Derbez

" tag.
CODA doesn't have the dramatic heft of Children of a Lesser God (for which deaf actress Marlee Matlin won an Academy Award), or the grittier themes of Oscar nominee Sound of Metal, but I totally get why it won the Grand Jury Prize, Best Director, Ensemble Acting, and Audience Award at Sundance earlier this year. It's a sweet and moving crowdpleaser that proves it's not just possible, but powerful to cast deaf actors in lead roles – and be all the better for it.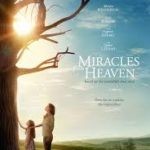 Miracles From Heaven is like 'a very special episode' of Touched By an Angel or Highway to Heaven or some tv-movie you might see on the Hallmark Channel or ABC Family at Christmas or Easter. It doesn't need to be seen on the big screen unless you're a huge fan of the aforementioned programs and/or a good Christian family looking for a faith-based movie to affirm your faith in god, prayer, and miracles. The movie is based on a book that is based on a true story about a Texas girl named Anna Beam (Kylie Rogers). At age 10, Anna was diagnosed with an incurable digestive disease that miraculously went away after she fell 30-feet, head-first, into a hollow tree. That's not a spoiler. That's the story.