Currently browsing the "
Faith-based

" tag.
I Still Believe is squarely aimed at the faith-based crowd and fans of popular Christian music singer Jeremy Camp. So if you fall into that particular demographic, then I do believe that I Still Believe will strike a chord. It tells the true-life story of Camp's meet-cute and instant attraction to Melissa, a fellow student at Calvary Chapel Bible College in California. They married in 2000, and she died four months later of ovarian cancer at the age of 21. The personal tragedy inspired Camp to write what would become a hit worship song called – you guessed it – "I Still Believe."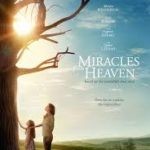 Miracles From Heaven is like 'a very special episode' of Touched By an Angel or Highway to Heaven or some tv-movie you might see on the Hallmark Channel or ABC Family at Christmas or Easter. It doesn't need to be seen on the big screen unless you're a huge fan of the aforementioned programs and/or a good Christian family looking for a faith-based movie to affirm your faith in god, prayer, and miracles. The movie is based on a book that is based on a true story about a Texas girl named Anna Beam (Kylie Rogers). At age 10, Anna was diagnosed with an incurable digestive disease that miraculously went away after she fell 30-feet, head-first, into a hollow tree. That's not a spoiler. That's the story.