Currently browsing the "
fantasy romance

" tag.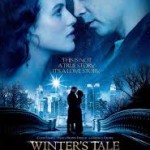 Winter's Tale is an okay chick flick that never quite finds its way. It's part time travel, part fantasy, part drama, part romance. Sometimes sad, sometimes funny, sometimes very odd… like when a horse sprouts wings or Will Smith pops up as the devil.
Fans of the 1983 book by Mark Helprin will be shocked at how much the movie diverts from the lengthy novel. Many of the major characters from the book are changed, omitted or made into composites that don't make much sense. Like why do so many of the characters affect various accents? And what's with Colin Farrell's hair? But I digress…
Beautiful Creatures is based on a popular novel for the 'YA' (young adult) crowd. And while I pride myself on being hip to such trends (Twilight, The Hunger Games, Harry Potter, etc.), I'd never actually heard of it. So I went into the movie with zero expectations. And in the end – I thought it was okay. Nothing extraordinary. But it didn't suck. I actually found it more interesting and romantically engaging than that other popular-novel-turned-movie released for Valentine's Day, Safe Haven. Both movies feature a supernatural element, but Beautiful Creatures takes it to the max. If you hear pop culture rumblings about "being claimed" – Beautiful Creatures is to blame.