Currently browsing the "
Florian Henckel von Donnersmarck

" tag.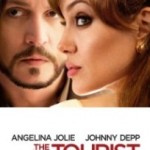 'Tis the season for dramatic, intense, riveting, must-see Oscar-worthy films. The Tourist isn't one of them. Sure, it's kind of fun. And you get to tool around Venice with Johnny Depp. But the movie has a major identity problem. Is it a spy thriller? A drama? A romantic comedy? Sometimes. Sometimes. Sometimes. Is it any good? It's okay. It's entertaining enough to kill time, but it's not a must see. It's a fine date movie or a viable solution for a diverse group of folks who want to see a movie together but can't reach consensus on a film/genre.
This first feature won Florian Henckel von Donnersmarck the Oscar in 2007 for Best Foreign Film and I can see why. What a wonderful film! It takes place in East Germany in 1980s and concerns a successful playwright (Sebastian Koch) and his gorgeous actress girlfriend (Martina Gedeck) who are put under surveillance by Stasi, the secret police, in order to find something to use against the writer because a high ranking minister has a thing for the actress and wants him out of the way. Their apartment is bugged and an agent is set up in the attic listening to their every conversation, taking notes, making reports. Friends come and go and anything they say may be used against them without any court of law. But it is mostly just regular old boring conversation. Then a dear friend, a talented but blacklisted director, kills himself and the writer feels compelled to say something. So he decides to write a piece for Der Spiegel in West Germany, thereby putting himself directly in the police state's sights if they find out who wrote the piece. The article is about how the East Germans decided to stop keeping statistics on suicides.