Currently browsing the "
Frank Langella

" tag.
I really liked this film. It's another that was somewhat under the radar that I think audiences would love if they knew a bit more about it. So… Captain Fantastic is about a single father raising six kids somewhere in the forests of the Pacific Northwest. He's teaching them to be resourceful and both intellectually and physically rigorous. But a death forces the family to leave their paradise for the real world and confront the pros and cons of their cut-off existence. It's funny, touching, and thought provoking.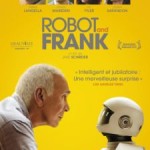 Robot & Frank is a fun little indie comedy that will probably pass most people by. Set in the "near future" it is about an aging man who is clearly not all there any longer, and his son's solution is to give him a robot that will take care of him. The central character Frank is played by the wonderfully talented Frank Langella (Frost/Nixon) and is no syrupy sweet old doddering fool or even lovable curmudgeon. He is a full ranging character who is right on that edge of knowing that he is losing it. He has some serious gaps in his memory, but what he does remember are the skills he used as a young man when he was a successful second story man, mostly a jewel thief.