Currently browsing the "
Gillian Jacobs

" tag.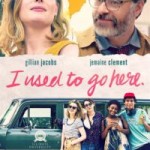 In this likable little indie comedy, thirty-something Kate (Gillian Jacobs from TV's Community) has just published her debut novel and is excitedly planning for her first book tour. Then her agent calls to tell her that sales are slow and it's been canceled. On top of it her recently ex-fiancé isn't returning her calls. And all her friends are having babies. And life sucks. So what's a girl to do? Accept an invitation from her favorite professor and mentor to return to her alma mater in Carbondale, Illinois for a reading to his latest writing class. What follows is a light and somewhat familiar story, elevated by a well-chosen cast and solid direction by Kris Rey (Unexpected).
Life of the Party is a serviceable, but forgettable vehicle for the affable Melissa McCarthy. She plays a middle-aged housewife named Deanna whose husband abruptly announces that he wants a divorce after 20-plus years and is in love with a local realtor. He dumps this news on Deanna just after they drop-off their daughter Maddie (Molly Gordon) at a nearby college where she's about to start her senior year. The locale gets Mom thinking… perhaps it's time to go back to school herself and get those last credits she needed to graduate with a degree in archaeology. Cue the archaeology puns (can you dig it?), the makeover, and the conventional college and family-dysfunction comedy antics: Deanna's decision initially horrifies Maddie while her sorority sisters think Mom is the bomb (in a cool way); she moves into the dorms and attempts to bond with her freakish loner of a roommate; and, she catches the eye – and more – of a hunky young guy on campus.