Currently browsing the "
grief

" tag.
It's probably just the films I am choosing to watch these days, but it is a great time for older actresses. Juniper stars Charlotte Rampling and she hasn't lost an iota of her screen charisma at the ripe old age of 76. Here she plays Ruth, an alcoholic grandmother who has come to New Zealand to recuperate after breaking a leg. She's not an easy person to be around. Her son skips town almost immediately, leaving her with his teenage son and her nurse. And neither of them really wants to be around her much. You sense from the setup that it's going to be one of those curmudgeon changling plots with everyone all lovey by the end, and it is somewhat that, but so much better in large part because of Rampling's presence.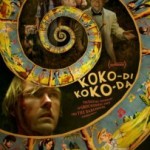 Just in time for the holidays comes a truly creepy flick from Sweden about a couple grieving the loss of their young daughter and their crumbling marriage who go on a camping trip and get caught in a Groundhog Day loop of a murderous fairy tale. Every night Elin (Ylva Gallon) wakes Tobias (Leif Edlund Johansson) to say she needs to go outside the tent and pee, and every night a trio of monsters is outside just waiting to prey on her and him. But night after night Tobias awakens with a bit more information and a plan to get away from the horrors inflicted on them the nights before. It's all allegory of their grief and their broken relationship and as the violent cycle continues they're ultimately able to find their way back to each other. It's a very odd film, definitely not for mainstream moviegoers, and frustratingly slow.