Currently browsing the "
Gurinder Chadha

" tag.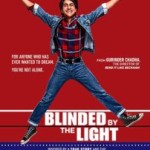 I'm a devoted Springsteen fan. I've seen him in concert several times, recently spent a boatload of cash to see him on Broadway – twice – and easily recall popping a 'Born in the USA' cassette tape in and out of my Sony Walkman throughout the mid-1980s. So when it comes to the film Blinded by the Light, I totally get it. The Boss – and this cinematic tribute to his music, message and influence – both rock.
It's been 70 years since the British left India and split it in two while they were at it. Viceroy's House is a very BBC telling of those last weeks, as Lord Mountbatten (Hugh Bonneville, Downton Abbey) and his wife Edwina (Gillian Anderson, X-Files) arrive in New Delhi to oversee the handover. Religious violence is rocking the country and the Muslim minority is pushing for their own country. It's no surprise how that turns out, but the personal story of a Muslim woman Aalia (Huma Qureshi) and her Hindu suitor Jeet (Manish Dayal, The Hundred-Foot Journey) gives the film some context around the problems inherent in that split. It's a very political world vs real people story.