Currently browsing the "
Gus Van Sant

" tag.
Director Gus Van Sant has brought us some very powerful films in the past — Milk, Good Will Hunting, Finding Forrester, to name just a few — and he frequently pushed the envelope in the way he tells a tale — To Die For, My Own Private Idaho — but his latest is a pretty straight forward bio of alcoholic cartoonist John Callahan. Played by chameleon Joaquin Phoenix, the arc of the tale is Callahan's coming to terms with himself after a life-changing accident while getting sober at the same time. There are some funny moments for sure, and an odd romance, and also some insightful AA bits. And it is a pleasant entertainment, though not terribly memorable.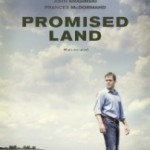 Promised Land is a well-acted and well-meaning movie that unfortunately lacks the one key ingredient that every good drama desperately needs… drama. It's almost too balanced for its own good, raising issues that could easily provoke and placate supporters and opponents of 'fracking', the controversial process of using water, sand and chemicals to fracture underground rock formations to obtain gas, oil, etc. That may be the intent of co-writers and co-stars Matt Damon and John Krasinsky. But the result is a movie that plods along at a mellow pace, without any major spikes of heart, romance, humor, horror, or grit.