Currently browsing the "
high school

" tag.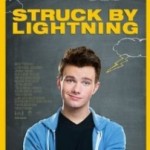 Struck By Lighting is an odd movie – a heartfelt drama/comedy that isn't nearly as laugh-at-loud funny as it claims to be. Chris Colfer (a.k.a. 'Kurt' from Glee) plays Carson Phillips, a high school outcast who is struck and killed by lightning. The End. Okay, maybe not the end. That's actually the beginning. Carson proceeds – in voiceover- to recount his upbringing by a depressed and over-medicated single mother (Allison Janney), his lifelong passion for writing, and his strong desire to get out of his small town and into his dream school, Northwestern (my alma mater).
I went into this movie with an open mind – determined to view it through the eyes of a teenager, rather than the cynical (albeit musical-loving) adult that I am. After all, I was a (young) teenager when the original Fame debuted in 1980. So I was kinda psyched to see the new one, for old times' sake. Whatever. This "updated" Fame is simply lame.