Currently browsing the "
homelessness

" tag.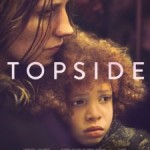 This is a really gritty and entirely engaging little film. It's about Nikki (co-director Celine Held) and her 5-year-old daughter Little (Zhaila Farmer) who're living on the edge underground in a homeless camp beneath the city of New York. Their life is not easy by any stretch, but they have a warm bond and community and a place of their own. But when the powers that be decide to clear out the riffraff, Little is forced to accompany her mother into the unknown and noisy and VERY bright city. And the question becomes whether they will be able to survive and stay together up there.
In this powerful documentary, director Michael Leoni headed to the streets of Los Angeles to see what it's like to be a homeless kid. Initially he was planning on shooting a PSA, but he got sucked in and ended up becoming much more than a filmmaker. American Street Kid is about his relationship with a group of young people who came to rely on him and who he was bound and determined to save. It's both an advocacy piece for building an infrastructure to help young people escaping abusive homes and a cautionary tale about documentarians who get too close to their subjects. And it's equal parts heart-breaking and heart-warming.