Currently browsing the "
Hope Davis

" tag.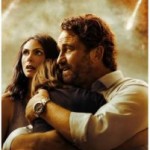 Greenland may not be the type of movie we need right now, but it may be the type of apocalyptic thriller some fans want. It won't displace anything from any critic's 'top 10 list' of 2020 movies. Or top 20. Or 30. Or maybe even 40. But hey, in a time when our lives are consumed by a killer virus circulating in the air, what's the harm in taking two hours to watch a somewhat normal family fight for survival as a catastrophic comet comes racing towards Earth? (That's a rhetorical question).
I vaguely recall reading "The Catcher in the Rye" in High School. But I must not have been overly impressed with teen-angst icon Holden Caulfield because unlike characters in, say, "To Kill a Mockingbird" or "Lord of the Flies," Holden and his story failed to stick with me into my adult years. Perhaps that's because the 1951 novel (that's sold more than 65 million copies) was never adapted for film! At least now I understand why, thanks to the mildly intriguing biographical drama, Rebel in the Rye, about famously reclusive author J.D. Salinger who steadfastly refused to sell theatrical rights to his most famous work.