Currently browsing the "
Ian McKellen

" tag.
I still have my ticket stub from the July 27, 1983 performance of CATS at the Wintergarden Theatre on Broadway. It was a Wednesday matinee and my orchestra seat cost $35. Betty Buckley played Grizabella the Glamour Cat. She sang "Memory." I was hooked. I will always be a fan of the music. I will continue to defend the songs, the dancing, and the whimsical appeal of Andrew Lloyd Webber's classic stage production.
I can't, however, defend the movie. It simply doesn't work.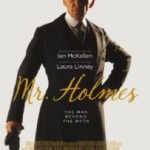 Just how many Sherlock Holmeses can the world sustain at once? We've got the Robert Downey Jr. action hero version and the Benedict Cumberbatch Aspberger's take. And now we have a senior and somewhat senile interpretation of the perennial sleuth portrayed perfectly by the classically trained yet suddenly everywhere Ian McKellen (X-men, Lord of the Rings.) Personally, I think we should all be grateful for this embarrassment of riches. Three very different Sherlocks and all such fun to watch! This time around, the mystery dear Holmes must solve involves his final case, decades prior, before he moved to the Sussex seaside to raise bees all by his lonesome. It is the case that drove him to retire.