Currently browsing the "
inspirational

" tag.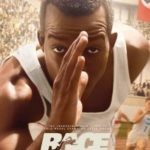 It's a shame that Race, an inspiring biopic about American track-and-field superstar Jesse Owens competing in the 1936 Olympics in Berlin, and Eddie the Eagle, an inspiring biopic about an awkward British ski jumper competing against all odds in the 1988 Olympics in Calgary are both hitting theaters at about the same time (with Race first out of the gate). Both are good. Neither is great. Race has far deeper political, historical, and sports-related significance, and despite some dramatic license (and omissions), has a story and supporting characters based in fairly well-documented fact.
Joyful Noise is full of, well, joyful noise – at least when the music is playin'. Unfortunately, the movie slows down quite a bit between numbers. In other words, you have to be willing to forgive a heaping spoonful of preachy dialogue and contrived plot to truly enjoy the show. Don't get me wrong. It's a sweet, warm-hearted flick that should satisfy fans of the music competition genre (i.e. Gleeks). It's just not as good as I hoped or expected it to be. I blame the trailer, which gives up all the best lines and high notes.